Boy, these weeks are flying by...it feels like I just did a highs and lows post but...here I go again. :) Love looking back over my week so that they don't all justl seem like a blur. Thanks Jen!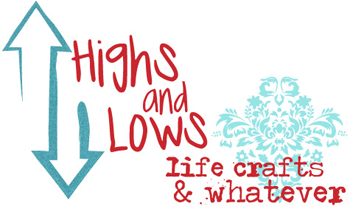 Highs:
1. I'm branching out and starting a new Relay for Life team. A friend just gave me $100.00 for next year's registration fee!!
2. I found a great little desk at a friends yard sale for 20 bucks!
3. My Kitty Litter cake (that I copied from you, Jen) was a huge hit at church today.
4. I'm making cake pops and brownie pops with a friends daughter tomorrow. Yay for having someone to share crafting with when I don't have little ones anymore.
Lows:
1. My diabetes is getting out of control and if I don't shape up by August, I'll have to go on Insulin. :o
2. I'm tired and I have a packed week coming up.
3. I can't find just the right skinny table for my hallway. :/
4. The weekend is over.
All in all...not terrible lows.