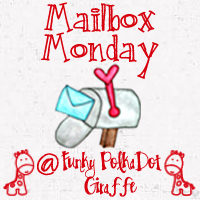 I decided to play along with Mailbox Monday because I finally got something fun in the mail! ;)
Here is my packet...
And, here is what was inside. Colorful fun.
I got them from Pick Your Plum. I haven't put any together yet but, you can see from the red one, how it will look. I bought 3 sets. I guess I'll keep one and give the others away. The bobby pins look like stabbers but the cute little flower that you glue on makes it worthwhile. lol
Happy Crafting!!